MVP Seminars Keynote Speakers & Business Trainers
Our lives depend on strength to thrive, otherwise, we struggle to find success in life. Robert "Fireman Rob" Verhelst delivers powerful impact to your audience, through his stories and catalysts that have been Forged In The Fires . From numerous years in the fire service to surviving on Discovery Channel's show "Ultimate Ninja Challenge" to performing search & recovery after the September 11th attacks. His message resonates with everyone and has proven results. Life doesn't get easier, you just get stronger. Fireman Rob will lead you there.
Keynote Topics:

Leadership,

Motivation and Goal Setting,

Business Training Topics:

Leadership,

Team Building and Coaching,

Communication,
---
Robert "Fireman Rob" Verhelst is a dynamic storyteller with a unique, iconic story that brings your audience to life. From numerous years in the fire service to surviving on Discovery Channel's show Ultimate Ninja Challenge to performing search and recovery after the September 11th attacks on the World Trade Center in New York, the impact of his message resonates with everyone.
He continues inspiring the global community through his work as Fireman Rob, where he speaks, delivers training, competes in Ironman races in 50 lbs. of firefighter gear, broke World Records, and delivers bears to children in hospitals throughout the globe.
As an impact leader and in demand speaker/trainer, Fireman Rob impacts lives throughout the world through in person events or his online training and social media presence. Robert truly lives and emphatically believes that there are no challenges or fears that cannot be overcome with the power of purpose and a strong mindset.
Our lives depend on strength to thrive, otherwise, we struggle to find success in life. It is the stories that connect Fireman Rob to the audience, allowing for a unique, genuine, and down-to-earth presentation. Driven by a desire to impact positive action in lives, "Fireman Rob" delivers an engaging presentation built on overcoming adversity, validated under fire, and challenges each person to discover their purpose. His approach to purpose driven success pushes the uncomfortable, unknown limits of you and reveals simple, effective strategies that anyone can use to build mental strength, lead an "action based" lifestyle and become a better personal leader.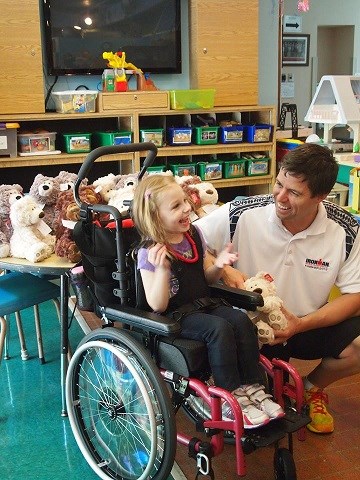 If you want to ignite the fires in your group or at your next event, Robert has the energy, experience and real-life message to make that happen. He is a normal guy with an extraordinary ability to push the envelope of what is possible, and then relate it to others to do it in their own lives.
Honors
United States Air Force

Air Force Achievement Medal, 325th Medical Squadron Airman of the Quarter, 325th Medical Group Airman of the Quarter, Basic Training Honor Graduate, National Defense Medal, Numerous Letter of Appreciation

Columbia Southern University

Selected member of The National Society of Leadership and Success (Sigma Alpha Pi)

In Business Magazine, 2014 Top 25 Most Influential People in Dane County
Jefferson Award Winner, April 2015 WKOW
Ironman, 2012 Performance of the Year
Guinness World Record, Most Ironman 70.3 triathlons in one year (23), 2015
Walt Disney World College Program Graduate, Ducktorate Degree, 1997
2015 Globe Turnout Feets of Strength (Athleticism category)
World Record for Most Ironman triathlons in Full Firefighter Gear (18)
World Record for Most Half Ironman Triathlons in Full Firefighter Gear (28)
2015 Triathlon Magazine "Best Record Breaking Performance of the Year"
2012 HITS Triathlon Athlete of the Year
Bachelor of Applied Science degree in Resource Management from Troy University
Masters of Science degree in Emergency Management from Columbia Southern University
Keynotes
Courses
Forged In The Fires

Leadership

Communication

Team Building

Mental Performance / Critical Thinking
***Topics Covered (Ability to customize to needs)***
FORGED IN THE FIRES

7 Catalysts to IGNITE Your Mindset
Here are the Seven Catalysts that Fireman Rob will identify for you, to form an Elite Mentally Tough Leadership Mindset that is Forged In The Fires. Your attendees will be empowered to be the change and FIRED up to make the change. Fireman Rob's passion for his mission will be felt by your attendees.
Purpose - Identify your purpose (passion) to drive you forward and focus your efforts
Ownership - Discover the power of taking accountability for every action, decision, or goal.
Decisions - Get to your dreams or whatever you're going for with a tactical focus & precision.
Emotional Control - Discover how to pressure proof yourself against stress.
Resilience - Build your World Record Grit... Daily.
Faith Over Fear - Uncover the power of self-leadership & belief.
Mental Strength - Define the courage & ignite the power of an elite mindset.
"Fireman Rob did an outstanding job as our keynote speaker. He really "touched" the hearts of our participants and left a lasting impression. We have received many personal emails and Facebook messages congratulating us for choosing such a fantastic speaker. Rob's message of "living your passions" speaks to everyone no matter what their goals and aspirations are. He not only speaks his message, but truly lives it."
TONI JAECKELS
Race Director | Cellcom Green Bay Marathon
"I brought Robert in to speak with my entire field division staff for a team building seminar to help motivate and inspire them. As expected, he was amazing and truly exceeded expectations. He has a way of touching his audience with his stories and insights, no matter their back ground or the type of organization they are from."
DONALD SORRANO
Former Executive at the Department of Justice | US ATF
"Mad props on many levels. I couldn't believe my eyes when I saw Fireman Rob running in all the gear." via Tweet
JIMMIE JOHNSON
NASCAR Legend | 7 Time Champion on NASCAR Cup Series
"I gain inspiration from Robert's accomplishments and sacrifices for others. Anyone who spends even 10 minutes with Rob knows how engaging his story is. This world desperately needs more people like him!"
BONNER PADDOCK
IMG Speaker | Founder OM Foundation
"Rob's talk was fantastic. Before he even said a word, you could see the passion that lives inside this guy. His talk on leadership was motivating and really did add the value of our meeting. I'd bring him on for my next meeting in a second."
KEITH MEYER
Sports Timex Group USA | Senior Brand Manager
"Robert's impassioned keynote delivery jump-started the weekend's content. He weaves a spell with his own stories and life experiences to illustrate the key points to inspire and lead. Attendees laughed, cried and empathized with him to craft new concepts for them-selves and their events in the future."
KATHY MATEJKA
Event Services Director | USA Triathlon
"Robs presentation was great! He shared many stories about his personal journey and tied it into the work we do along with our values. We continue to have people bring up positive comments on how Rob has impacted their lives after seeing him speak. If you are looking for a speaker to help your people live better lives, both at work and at home, Rob is that person."
JOSH SCHMITZ
Safety Director | CG Schmidt Construction
"I would like to commend Fireman Rob on the impact he made, and perspective brought to the 2018 PMIMileHi Symposium. His message provides Project Managers with the with perseverance and leadership tools to overcome challenges, which are not nearly as daunting as the impressive accomplishments of Rob Verhelst. Rob is very effective in challenging people to bring their best in taking themselves and their teams to the next level. His accomplishments are outstanding reinforced by his commitment and perseverance."
JIM ESCUE
Speaker Lead | PMI Mile Hi